Emily's Gift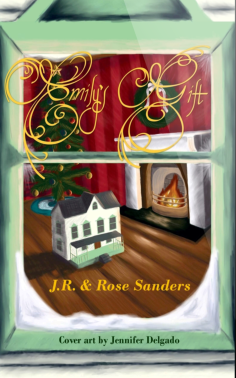 A Tale of a Christmas Present, and a Christmas Past
By J.R. Sanders
Published by J.R. Sanders
Who has ever seen a faded photograph from bygone days without wondering about the people pictured - whom they were, how they lived, what became of them? Which of us has toured a historic building and never once thought, if these walls could talk...? Emily Primm has. A thoroughly modern New York girl devoid of such childlike imagination, she sees herself as an adult trapped in a ten-year-old's body. She's never more anxious to slip the bonds of childhood than at Christmas, when all the grownups around her seem to become kids themselves.
However, when she's given an unusual gift - a dollhouse that once belonged to a great-great grandmother, Emily's intrigued. She's inexplicably drawn to the heirloom, so much so that she finds herself whisked away to the house's real-life counterpart thirty miles - and more than a hundred years - from home.
Emily spends Christmas Eve, 1905 with the real house's residents, the Forrests. She becomes fast friends with young Grace and her little brother Harry, a bookish boy who may hold the key to sending Emily back home. Their bonds strengthen when Emily learns that Grace is the dollhouse's original owner, and realizes that Harry and Grace are not only her friends, but her ancestors. And as she shares in the Forrests' old-fashioned traditions, Emily begins to view the holidays, her own family, and her youth in a different light.
Paperback; ebook | 118 pages | 978-0578799391 | December 22, 2022